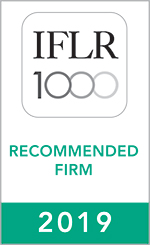 The IFLR 1000 guide to the world's leading financial and corporate law firms, which covers more than 120 jurisdictions worldwide, recently released its 2019 law firm rankings. The rankings are based on transactional evidence, peer feedback, and client feedback. Rautner Attorneys at Law is proud to announce that it is again listed among Austria's leading financial and corporate law firms.
The latest IFLR ranking coincides with the updated 2018 legal rankings published by TheLegal500 and Chambers & Partners, which have also continuously ranked Rautner as one of Austria's leading law firms in the areas of Banking & Finance and Capital Markets. Clients have described Rautner's legal team as "very solution-oriented and creative even in highly complex situations." Clients have praised the firm's excellent legal advice and its efficient price-performance ratio when consulted by the IFLR 1000.
Rautner's outstanding legal service is derived from the firm's commitment to strong professional expertise and excellent teamwork. The firm recognizes the individual needs of its clients and develops highly customized solutions tailored to suit their specific needs.
Outstanding work cannot be done without a great legal team. The firm thanks Dr. Uwe Rautner, Walter Gapp, Dr. Melany Buchberger-Golabi, René Semmelweis and Andreas Lengger for their excellent work this year, contributing to IFLR 1000's decision to have Rautner Attorneys at Law listed among Austria's top law firms in the fields of Banking & Finance and Capital Markets.